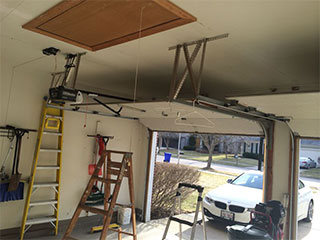 If your garage system is used regularly, it's almost inevitable that it will exhibit some kind of malfunction in the future without regular maintenance. These are complex electro-mechanical systems that serve us well, but they need to be looked after or they can fail when we least expect it. To prevent unpredictable breakdowns and to prolong the life of your system, we recommend ensuring you have a qualified technician examine the safety and condition of your garage door at least once a year.
Prevent Unexpected Glitches
Even minor issues can become large over time. You may not have noticed yet, but your springs or safety cables may be wearing out. Not caught early enough, this can cause the door to fail or collapse altogether. If this happens, you'll likely have a rather costly repair job on your hands. During our maintenance visit, we'll check the condition of these crucial components and lubricate or make any other recommendations as necessary.
Inspection & Adjustments
No job is too big or too small for our experts at Garage Door Repair Crystal Lake. If we notice anything that could turn into a larger problem during our visit, we'll fix it there and then. We'll check for extensive rust, lubricate all of your system's moving parts, and ensure there are no other hidden issues waiting to emerge.
Checking the Safety Status
Well-aligned photo-electric eyes (safety sensors) are crucial to the overall safety of your garage door system. If they start to fail, there is a risk that objects or people in the path of the door are not identified. This can be very dangerous if the door starts to fail when something or someone is in the way. By having our experts ensure your sensors are correctly aligned during a maintenance visit, you'll be preventing unanticipated safety hazards in the future.
Contact us today
Make sure you're not wasting time and money down the line on costly repairs that could have been avoided. Our experts have years of experience behind them and will help you ensure your system functions well for as long as possible. Call us today to book an appointment or discuss our maintenance services further!
We also offer the following:
Garage Door Safety Inspections
Opener Sensor Repair & Replacement
Oil Tempered Torsion Springs
Emergency Garage Door Services