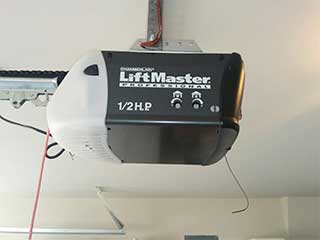 Over the years, LiftMaster has become a household name in the garage door opener industry. The brand is best known for being among the first to introduce innovation. If you want to get all the latest features that an electric opener can offer your home, you should consider the brand's Elite series. These models are some of the most technologically advanced ones on the market today.
Chain and Belt Drive Models
LiftMaster's Elite garage door opener line includes a variety of chain and belt drive units. These two types have a similar principle of operation, with the main difference coming only from their drive system. The chain is made of metal and therefore makes the operation of your overhead door noisier. It also requires more frequent maintenance, which involves both adjustment and regular lubrication. At the same time, chain-drive models are extremely strong. The belt-drive models are smoother and more flexible. This results in quieter performance and eliminates the need for lubricating the drive.
Different Motor Options
If you decide to go for a belt drive opener from Liftmaster's Elite series, you can choose between a model equipped with an AC motor or one that uses a DC motor. The main advantage of the DC motor is that it is quieter than its counterpart. This will make a belt drive unit equipped with this type of motor perfectly suitable for a house where there is a bedroom near the garage. The person or people sleeping inside will certainly appreciate it.
Wi-Fi Enabled for Smart Device Operation
The belt and chain drive models of the LiftMaster Elite series are designed to connect to the Wi-Fi system of your house. This enables smartphones and tablets to function as your portable remotes. You just need to download the correct mobile app and you'll be good to go. The app will allow you to monitor your automatic garage door remotely and to get alerts when it opens and closes.
Additional Advanced Features
You can get a LiftMaster opener with a battery backup system that will allow you to use your garage door automatically even during a power outage. You can set up a timer for the automatic closing of your door and use a locking system which monitors the unit for forced entry attempts. You can also choose a model with motion detection sensors that will turn lights on the moment you walk or drive inside your garage. Liftmaster's remote controls come with rolling code technology that switches the communication codes the opener and the remote use to interact after every use to provide a higher level of security.
Contact our experts at Garage Door Repair Crystal Lake today to find the perfect Liftmaster Elite garage door opener for your home.