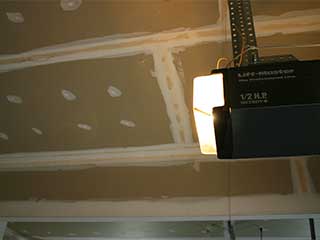 If it turns out you need to replace your current garage door opener, you'll have to make a decision about which kind best suits your home environment. There are three main types on the market - our team of experts can help you further with choosing the right one for your needs.
Chain Drive Openers
This is the most common type of opener available on the market; it is inexpensive while still very reliable. Chain drives can be noisy so this type works best for garages that are either detached or far away from bedrooms and living spaces. For homeowners on a budget and with the right layout of their home, these are a great option.
Screw Drive Openers
Quieter than chain drives, screw drives operate with a steel rod that open and close the door instead of relying on a chain. With so few moving parts, these openers generally last for a long time and don't require a lot of expensive maintenance. This is a great choice if you don't want to have to worry about your opener in the future.
Belt Drive Openers
Belt drive models don't have a chain; instead they use a very strong belt to operate the door. They are the quietest option available, perfect for homeowners who have bedrooms above the garage or near where the garage is attached to the living room. While they do sometimes come with a higher price tag, there is not much of a difference, and for those looking for quiet functionality, this one is likely to be the right choice.
Horsepower Matters!
Remember, the particular unit you choose will also be affected by the level of horsepower needed to lift your door. Generally, the heavier your door, the greater the horsepower you will likely need.
If you're not sure which option is right for you, it's time to call us at Garage Door Repair Crystal Lake. Our experts can help you choose the correct unit for your home and talk to you more about the pros and cons of each option. We also offer repair services, maintenance and safety testing for any current system you might have. Talk to us today!
You can also count on us for:
Garage Door Tune Up Services
Opener Sensor Replacement
Broken Garage Door Spring Replacement
Extension Spring Adjustment