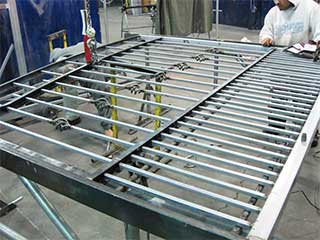 Our company has been providing Crystal Lake residents with both gate and garage door repair and maintenance services for a long time. Therefore, we have developed an impeccable expertise in diagnosing problems and coming up with innovative solutions. Our use of the latest and most efficient materials also means that you'll be able to save time and money by choosing to call upon our experts.
Emergency Response Services
We provide property owners, both residential and commercial, with fast response for any gate related service. Due to our meticulous and diligent work, any repair work we perform will last for a very long time.
Driveway Gate Track Repair
The track along which your gate moves can become dent or misshapen for a variety of reasons. When that happens, making sure the track is repaired as soon as possible is very important. Otherwise, your gate could get stuck, and potentially even get misaligned and collapse. Our experts can ensure that there is sufficient clearance for your gate to move freely, and that the track is free of debris, doesn't develop any rust, and stays in a functional condition.
Repairing Opener Malfunctions
Your automated gate operates similarly to your garage door, in that it uses an opener in order to power its movement. This device can suffer from a variety of issues, all of which will require the expertise of a skilled technician. Whether the limit nuts need to be adjusted in order to prevent the gate from slamming into the end of its track, or a motor gear needs to be replaced, our specialists can provide you with a timely solution.
Driveway Gate Maintenance
Preventive measures are always a good idea, and the gate maintenance and adjustment that our company can offer you will ensure every part of your system continues operating at an optimal capacity. We'll make sure the opener's circuit board is in a good working condition, the track isn't damaged and that the gate can travel uninterrupted.
Seek Professional Assistance
You should never try to repair your gate by yourself, as these systems can be dangerous to handle without the right tools and the necessary expertise. Call our experts at Garage Door Repair Crystal Lake to make sure your system stays operational for as long as possible.
Give our team a call if you need help with: